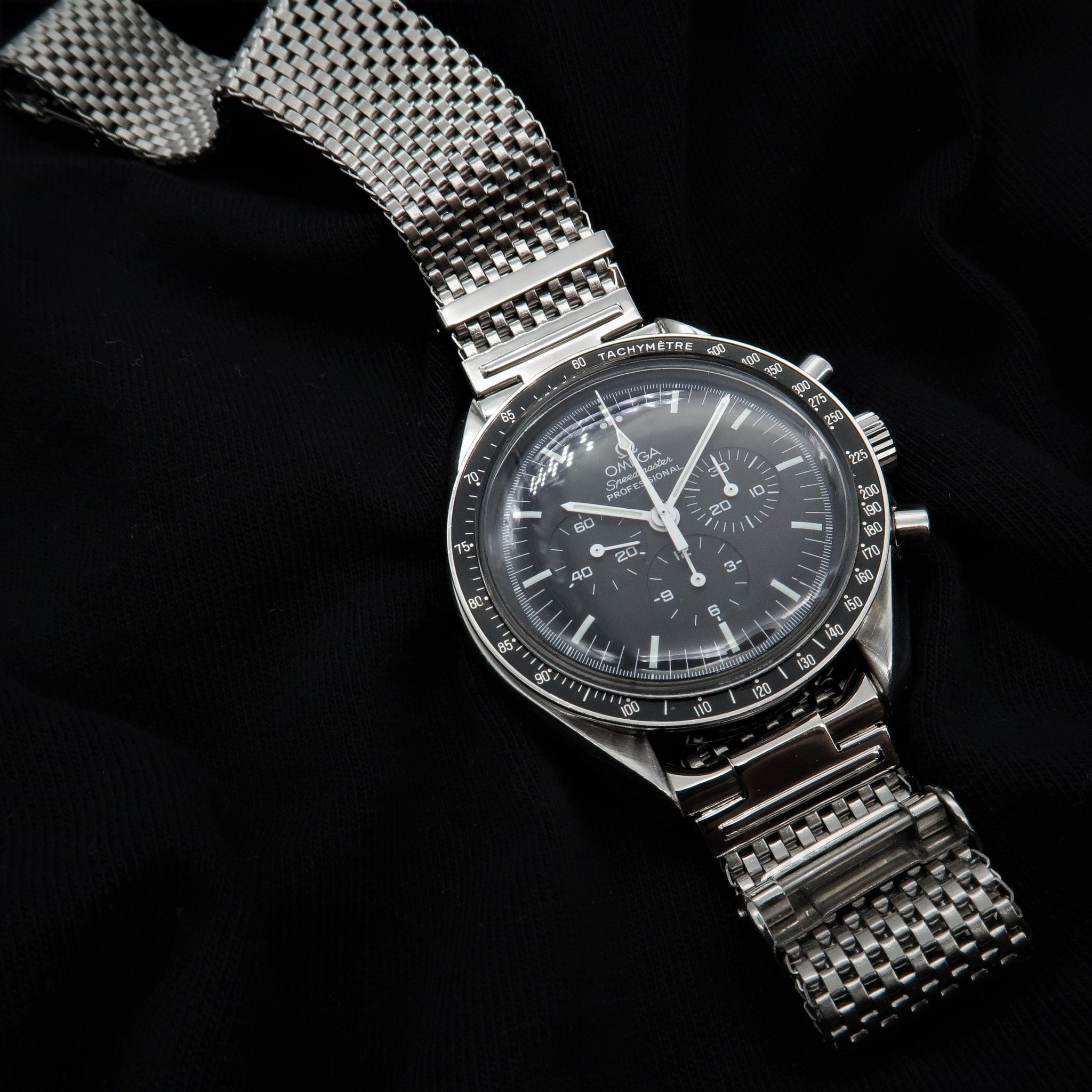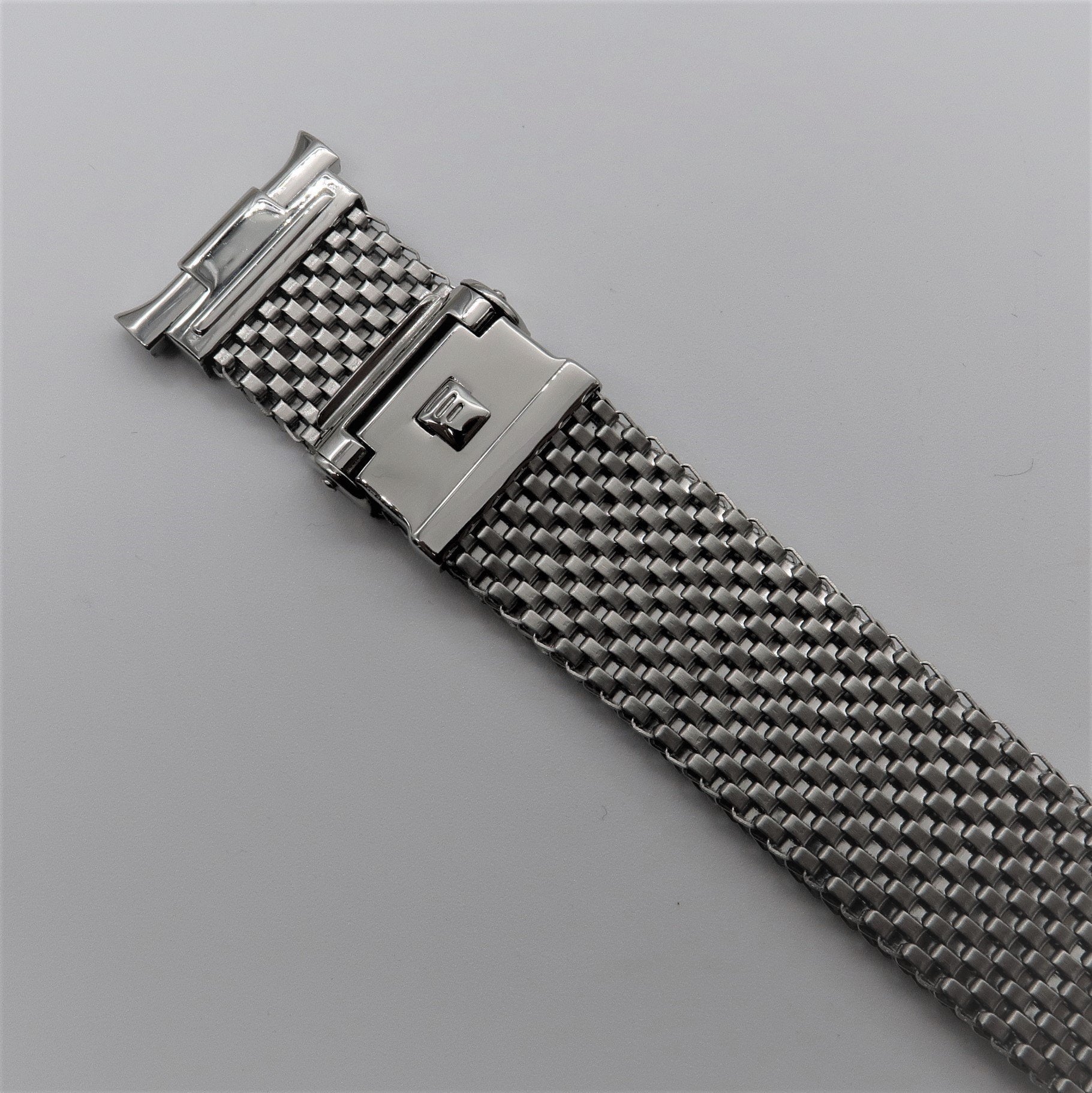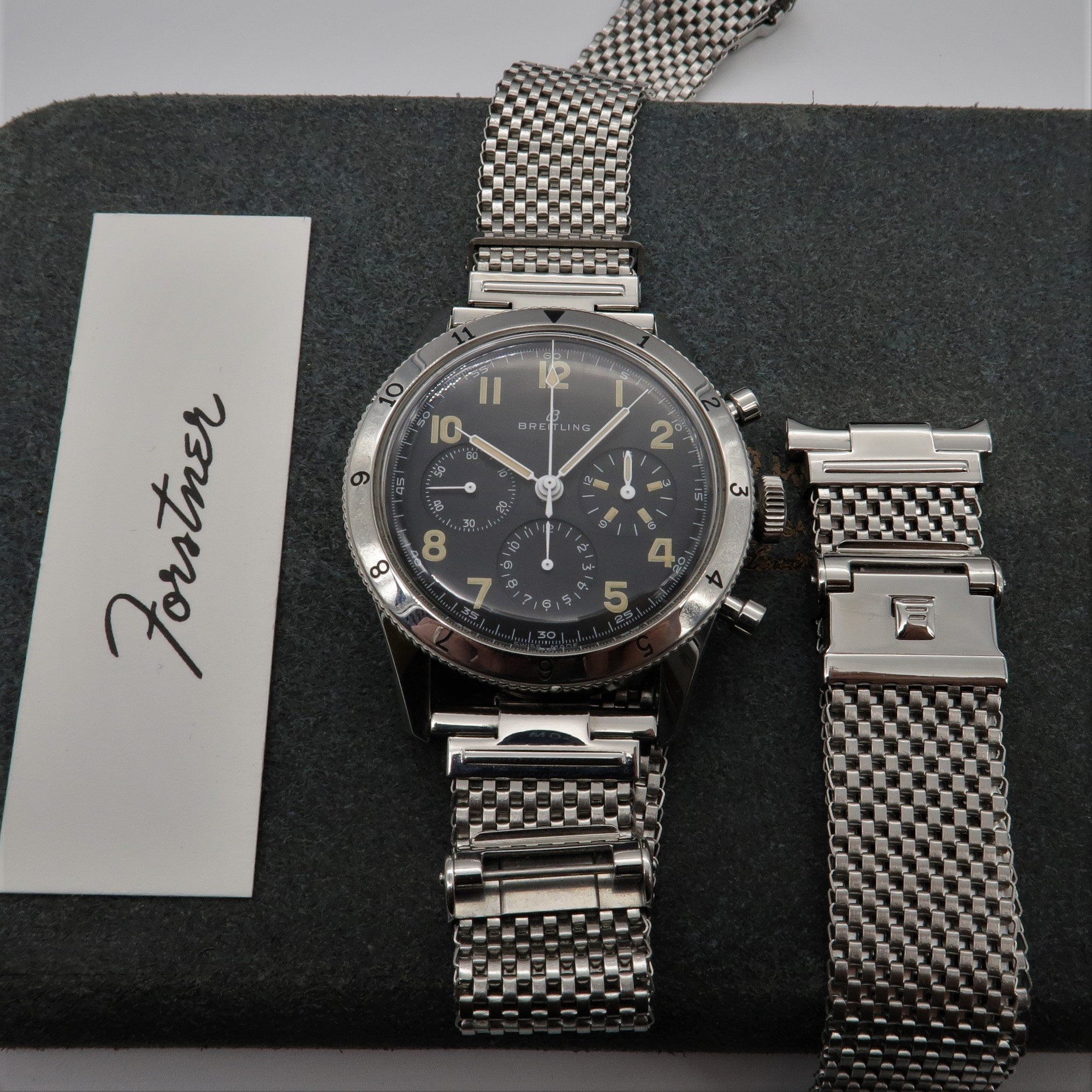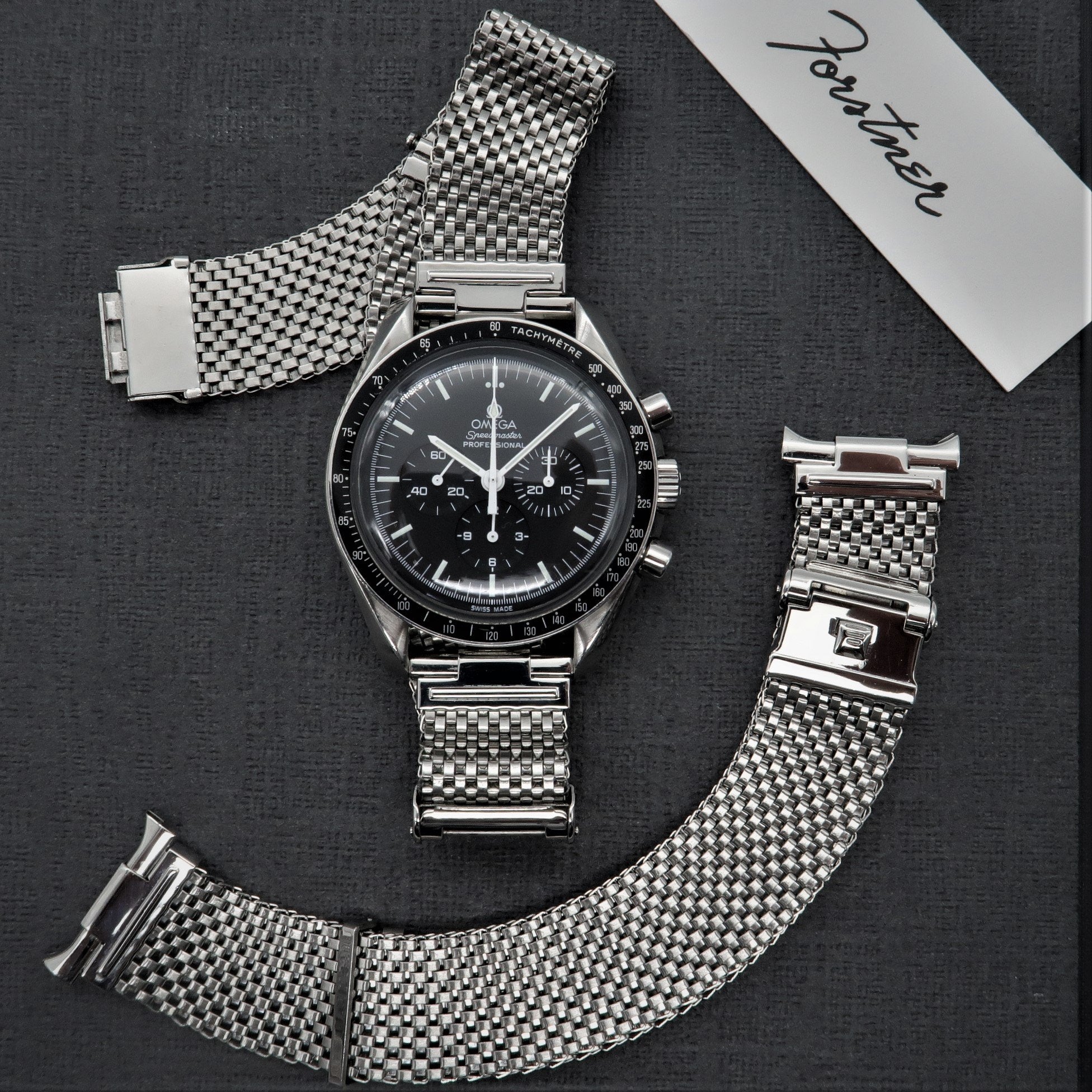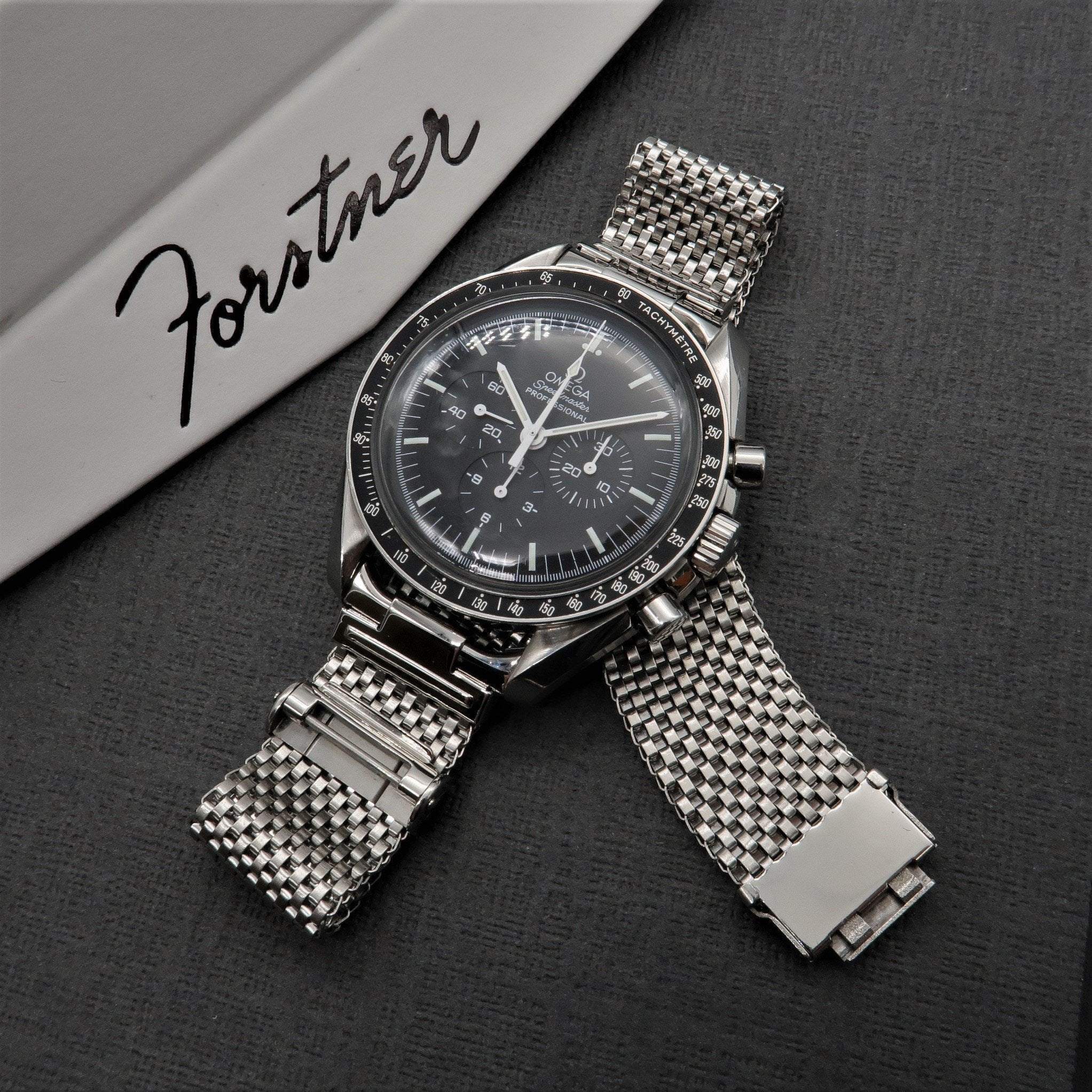 Wide Version Komfit "JB" Mesh Watch Bracelet with Horned Ends
Sale price

£115.00
Regular price
(/)
---
The Story
Forstner's stainless steel expandable mesh watch band (called the "Komfit") was one of the only watch bracelets sanctioned by NASA for manned space missions.  It was worn by astronauts throughout the Mercury, Gemini, and Apollo programs, and even made it to the surface of the moon.  After a long hiatus, Forstner has reissued and improved this classic watch strap.     
Details
The present wide version Komfit band has all the features that popularized the bracelet with NASA astronauts, but the width has been increased to more contemporary proportions.  In particular, this wide version Komfit band has an 18mm wide central mesh portion, and spring-loaded end pieces that expand to fit watches with lugs up to 22mm (it can compress inward to fit watches with lugs as narrow as 19mm).  The bracelet is otherwise identical to the classic Komfit -- with its square-patterned mesh, beautifully decorated spring-loaded end pieces, forward-facing clasp, and ability to be easily sized in micro-increments for the perfect fit.  Here are some important details:
End pieces: spring loaded, fits watches with lugs ranging from 19-22mm
Mesh width: 18 mm at the central mesh portion
Accepts spring bars up to 1.8 mm in diameter (including authentic Omega spring bars) 
Internal lug protectors provided with each order
Sizing
The Komfit band is offered in two lengths: "Original" and "Regular."  
The "Original" reflects the length once worn by astronauts over their space suits, and as a result is equivalent to a "long" size.  This band works best on wrists at least 7 inches (18 cm) in circumference and will fit wrists up to approximately 10 inches (25.5 cm) in circumference.  
The "Regular" was made to fit small to medium wrists, and works best on wrists between 5.75 inches (14.5 cm) and about 7 inches (18 cm) in circumference. 
Improvements
We have made several notable improvements over the vintage Komfit.  First, whereas the vintage model had end pieces up to only 19mm wide, this wide version extends to 22mm.  As a result, the band now fits watches with more contemporary proportions.  Second, the mesh is now wider at 18mm vs. 15mm in the vintage model, to accommodate the wider end piece. Third, the band fits more securely -- whereas the clasp of the vintage versions had a tendency to "slip," the clasp of the re-release has been improved to avoid this problem.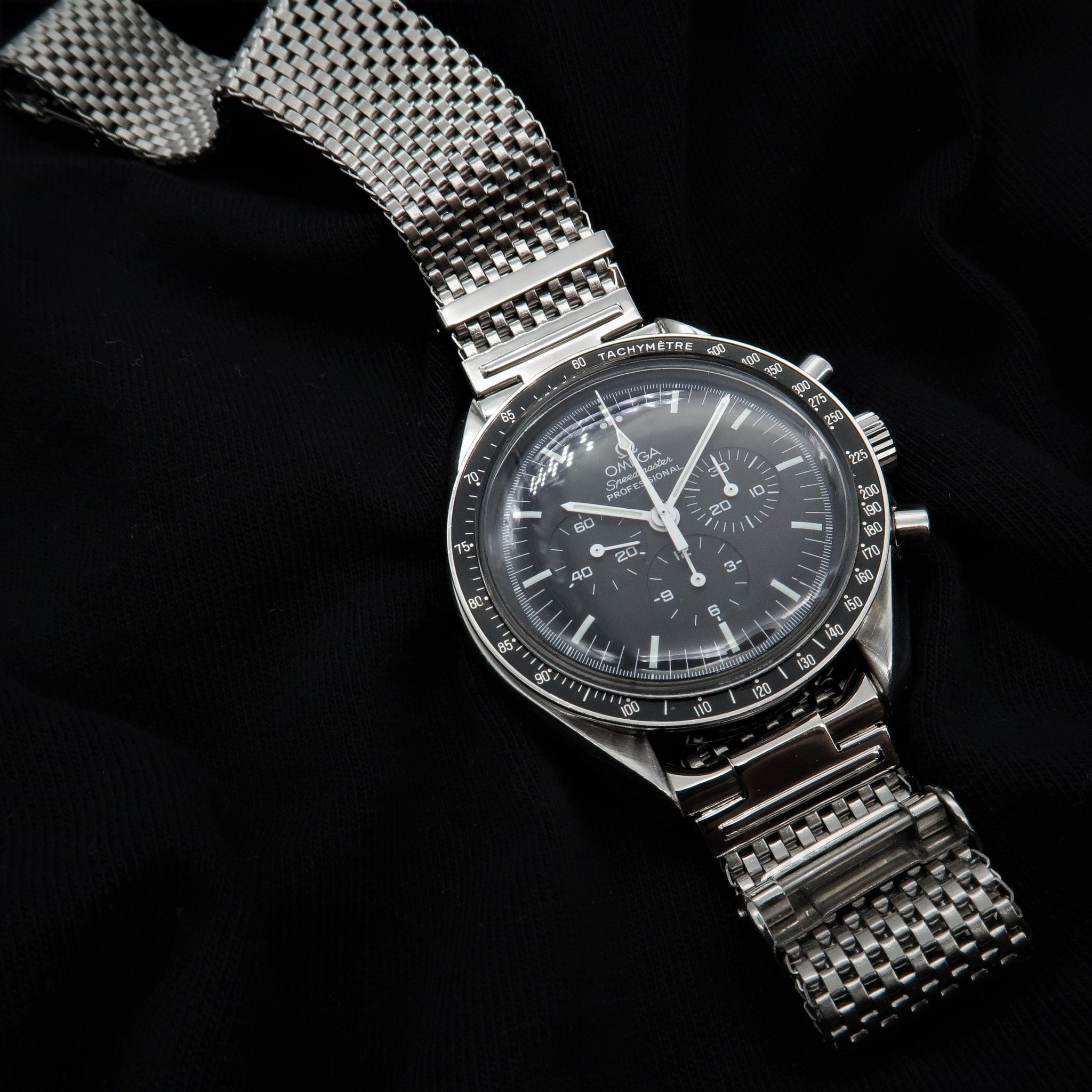 Wide Version Komfit "JB" Mesh Watch Bracelet with Horned Ends
Sale price

£115.00
Regular price
Choose options